WIPO GREEN City Acceleration Project in China: Release and MOU SigningPost date: 2022-04-29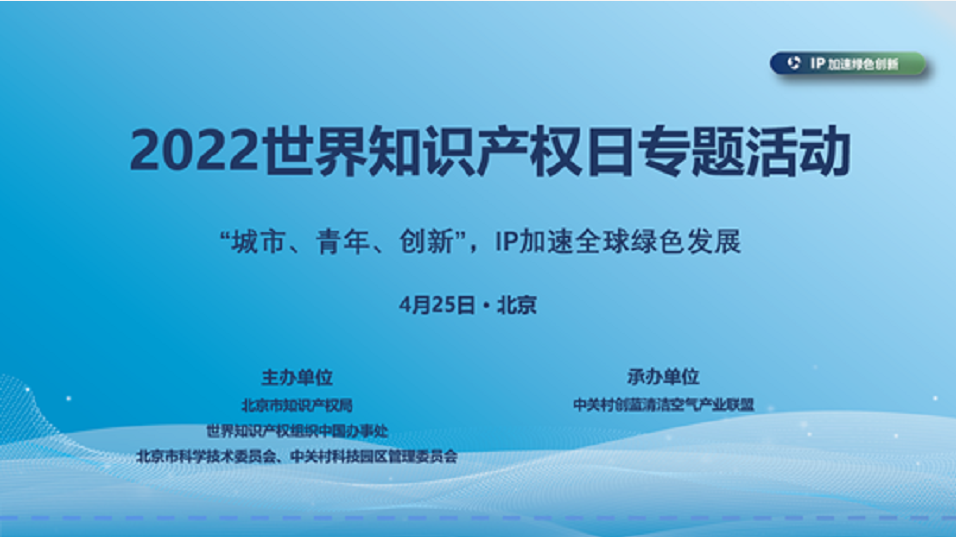 On April 25, the special event of "Cities, Youth, Innovation, IP Accelerates Global Green Development" was held in Beijing. During the event, the latest progress of the WIPO Green City Acceleration Project and Beijing pilot were systematically introduced, with a productive MOU signing ceremony. This event was jointly hosted by Beijing Municipal Intellectual Property Office; World Intellectual Property Organization (WIPO) Office in China, Beijing Municipal Science & Technology Commission, Administrative Commission of Zhongguancun Science Park, and was organized by Bluetech Clean Air Alliance(BCAA), a strategic partner of WIPO GREEN in China.
To respond to China's carbon peak and carbon neutrality goals, promote green technology transfer, achievement transformation and international cooperation, and give better support for the realization of China's sustainable development and carbon neutrality goals, BCAA, together with WIPO GREEN, introduced the WIPO GREEN Acceleration Project into China in 2021 and established the WIPO GREEN City Acceleration project. This project planned to select 5 cities as pilots and will carry out the needs research and collection of green technologies around the green challenges faced by cities. After that, the project will recruit green technologies around the world based on these needs and will promote the application of these technologies and accelerate the green development of cities. Hongxing (Tonny) Xie, Director of BCAA, said: "China's realization of carbon neutrality goals will create the world's largest greenhouse gas emission reduction, and form a 487 trillion green technology market in next 30 years. We need advanced green technologies from all over the world to support China's low carbon development. WIPO GREEN City Acceleration Project just responds to this demand".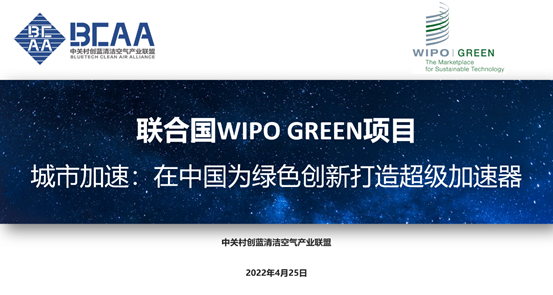 Hua Liu, Director of WIPO Office in China, said: " The first pilot of WIPO GREEN City Acceleration Project in China is Beijing. It is a vivid example of how WIPO provides a global IP service system and strengthens the construction of a global partnership platform. The first round of green technology and need collection of the pilot has received 10 green technology needs from Beijing and more than 30 green technologies from around the world. Today, some collaboration will be officially formed with MOU signed and implemented. I'm looking forward to witness that this project can become an accelerator of carbon peak and carbon neutrality transformation for Beijing and even China."
Peter Oksen, Senior Project Officer of WIPO Global Challenges Division from Geneva, said: " In addition to China, the WIPO GREEN Acceleration Project has been successfully implemented in Latin America and Southeast Asia. The Latin American project focuses on climate smart agriculture, and the project in Indonesia focuses on the products of palm oil plants. The WIPO Green Acceleration Project in Indonesia can contribute to Indonesia's international commitment to methane emission reduction".
The Beijing pilot project has achieved staged outcomes. The project team has completed the overall analysis of the needs for green technologies in Beijing, and identified that CO2 emission reduction and air pollution are more severe challenges in Beijing. The first round of technology and need collection has been completed, and the project team has uploaded the collected information to WIPO GREEN global database. As for the collected technical needs of Beijing, the project team conducted technology screening with WIPO GREEN global database and sorted out more than 600 relevant technologies. The project team sent docking invitations for more than 70 technologies from 17 countries, and received positive responses. The project team carried out 6 rounds of on-site and online matchmaking meetings. Five groups of partners expressed clear cooperation intentions. BCAA and WIPO GREEN jointly completed and released the report of Progressin Hydrogen Fuel Cell Technology Development and Deployment in China. (Report Download)
This event also included the cloud signing ceremony between the technology seekers and providers. The organizations participating in the signing ceremony include: Beijing Bicycle Industry Association, Jiangsu Richpower New Energy Technology Co.,Ltd., Beijing Lake View Hotel, Beijing Zhongyuan Energy. Co., Ltd., Beijing Hanqing Environmental Protection Technology Co., Ltd. and Shandong Mingchuan Automobile Group Co., Ltd. The fields involved battery safety management of electric bicycles, on-site resource utilization of kitchen organic waste, real-time monitoring and supervision of motor vehicle exhaust, etc. Representatives from the hosting and organizing of the event, guests and event participants witnessed this signing ceremony.
The signing session was hosted by Yuhua Deng, Consultant of WIPO Office in China. She said: "The purpose of the cooperation between WIPO and BCAA is to better connect the needs and technologies. So that everyone can truly implement green technology to generate benefits and promote the development of industries or enterprises. We also thank the city acceleration project for its contribution to promoting green development and international cooperation in green technology in Beijing. We thank the six organizations for their introduction, and congratulate them again on their successful signing. We look forward to their cooperation to bring more effective contributions to the green development of our cities.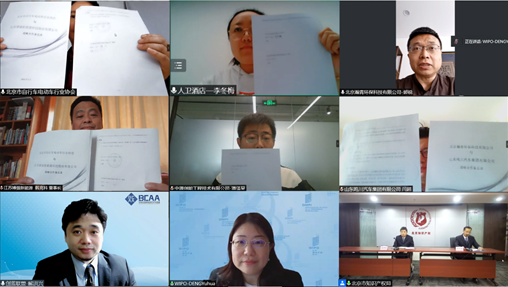 Hua Liu, Director of WIPO Office in China; Jian Liu, Deputy Director of International Cooperation Department of China National Intellectual Property Administration; Xinsheng Pan, Deputy Director of the Beijing Municipal Intellectual Property Office and Yulei Zhang, Deputy Director of the Beijing Municipal Science & Technology Commission, Administrative Commission of Zhongguancun Science Park, attended and addressed the event. This event also invited well-known experts and scholars from China and abroad. They are from international organizations, government departments, scientific research institutions and scientific and technological enterprises. This event decoded the IP tools promoted by WIPO such as Madrid and the Hague system and IP arbitration in the form of panel and lectures. This event explored the opportunities for green development and innovation in Beijing in the future. This event is the 4th event of the "Innovation for a Green Future" IP Series Activities, and it is also an activity carried out by WIPO GREEN global cooperation network in China.
Click to Download the Event Manual