2018 Bluetech Conference Agenda
he 4th Bluetech International Clean Air Conference will unite approximately 300 participants, including policymakers, national and international experts, local environmental departments, technology companies, environmental organizations, and media together to discuss the hot issues around clean air technologies, markets, policies and investments. Meanwhile, the Bluetech Award winners and finalists will be announced during the conference.
The conference will focus on the future air quality improvement strategy and policy roadmap, international experience, the challenge and demand of provinces and cities, co-control of air pollution and climate change, clean technology patent strategy and other topics.
The conference will set up a special session named innovation clean air technology roadshow session. Technologies and industry representatives from more than 20 countries and focus on disaggregated coal pollution control and clean heating, air quality and pollution monitoring, VOCs pollution prevention and other clean technology areas will participate in this session. Besides, the conference will invite representatives of the environmental protection department from different provinces and cities to promote the connection between clean air technologies and local demands to support technology promoting and policies implementation.
01.

Meeting time and place
Date: 03-04 December 2018
Location: The Presidential Beijing(No.9 Fuchengmenwai Road, Xicheng District. Beijing)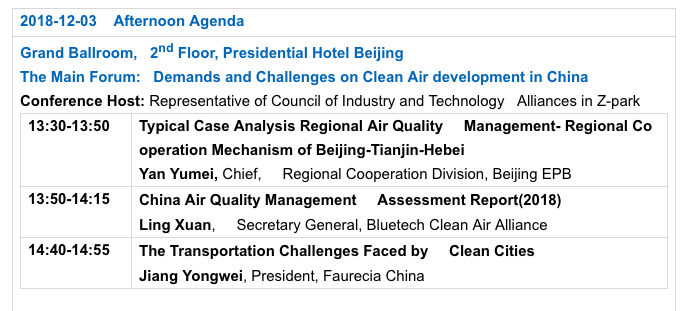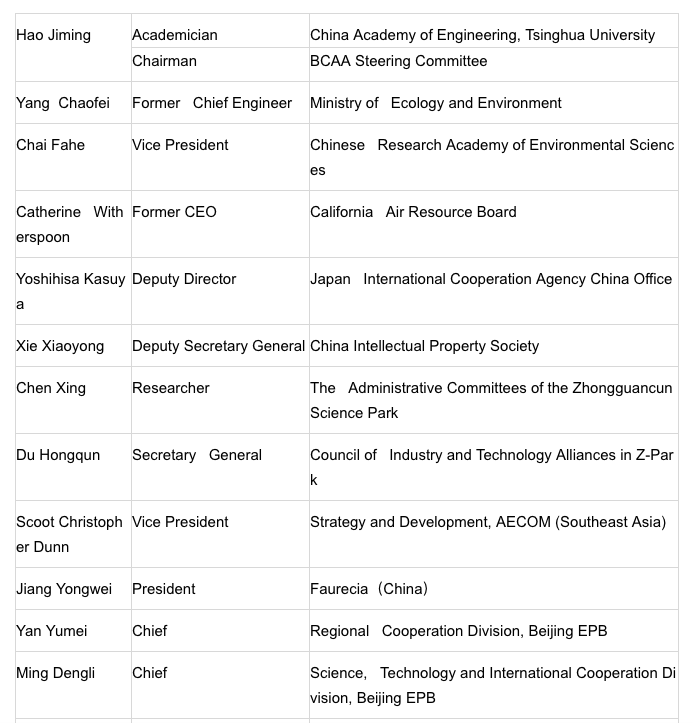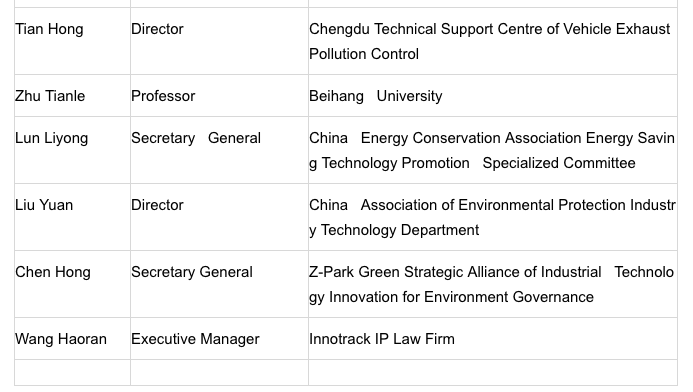 BCAA is the technology brand of the Clean Air Alliance of China. With the support of Zhongguancun Management Committee of Beijing government, BCAA was established in 2018 to promote the development of clean air technology industries in China through international technology transfer, investment service, and policy research.
http://www.cleanairchina.org/
http://www.bluetechaward.com/
Innovation Center for Clean-air Solutions (ICCS)
Council of Industry and Technology Alliances in Z-park
Zhongguancun International Environment Protection Industry Promotion Center
06. Strategic Media Partner:
Beijing TV
Neng App
Oneneng.com
China Ecological Capital Network

07. Supporting Organizations(Planned)
LI Lianfei 13810674509, 010-65155838 extension 8007
LING Xuan 13810291486, 010-65155838 extension 8006
Food and Accommodation are not included. You may pruchase lunch cuppon at the Venue (The Presidential Hotel). For accommodation, please contact Mr. Zhang Xiaonan at 13911521601. Please mention the 4th Bluetech International Clean Air Conference to receive discounted rate. Superior Queen Bed: 680 yuan with single breakfast; Superior Double Beds: 750 yuan with double breakfasts.