IP Awareness and Strategy
Bluetech Clean Technology Patent Incubator
Since 2017, Bluetech Clean Air Alliance (BCAA) launched the Patent Incubation and Protection Program for clean technology, aiming to promote the highquality and high-speed development of the industry. Founded on the industrial resources and introducing domestic and international intellectual property experts, BCAA has set up the patent unit which include high-value patent strategy, exploitationand distribution modules. Through training and pilot work, we actively promote the transfer of scientific and technological achievements in the field of clean technology. This cultivates high-value patents for science and technology companies, and international development. BCAA will focus on big data, new energy vehicles and intelligent travel, energy storage technology, new environmental materials, bioenergy and other clean technology with rapid development to expand the following:
01 Patent Awareness Raising
BCAA is providing a patent awareness training program towards technology companies, research institutions, investment funds, incubation platforms and industries alliance in clean technologies areas. This program will enhance the relevant parties' in-depth understanding of the patent system, to strengthen the importance of patent quality, and learn how to use the rules of the patent system to carry out effective business competition. Moreover, the program will enhance the relevant parties' knowledge of intellectual property management systems, and guide them to develop such systems given their development stage and technical characteristics while systematically managing intellectual property related risks and promoting the generation and maintenance of rights.
02 High-value Patent Cultivation Pilot Project
BCAA will optimize leading technology enterprises in the field of clean technology to carry out pilot projects while also organizing professional intellectual property service teams to cooperate with them. Furthermore, BCCA will integrate patent discovery and distribution with business strategy, research and development according to the companies' development stage, competition situation and industry characteristics. Equally, the targeted patent layout will help enterprises cultivate high-value patents and patent portfolios (including international patents).
◆ Patent Strategy Formulation: Bespoke patent strategy alligning with the business development of that enterprise;
◆ High-Value Patent Exploitation: Systematically analyzing the innovative results by using original patent strategy methodology, form the high-quality patent application documents in batches;
◆ Patent Innovation and Appreciation: Bring up-to-date international patent information to the corporate R&D team, and apply Patent Innovation Methodologies to help upgrade the level of R&D;
◆ Patent Strategy Design: Support innovative enterprises to develop and deploy global patents;
◆ Establish IP Management System: Help innovative technology companies establish tailored IP management systems compatible with featured industrial characteristics and the development stage of the enterprise.
03 International Patent Layout and Technology Transfer
The Global Patent Strategy in the Belt and Road Countries, Europe, United States, Japan and OtherCountries. Along with the promotion of the Belt and Road, many of China's clean technologies have been rapidly applied to countries along the Belt and Road, supporting their clean and sustainable development.Therefore, after being applied to such countries, many technology companies could suffer from risk ofinfringement in from these countries. Besides, some of China's indigenous clean technologies have reachedthe leading international level, which also has definite competitive advantages in Europe, America, Japanand other countries. Supporting these technology enterprises in patent application and distribution inrelevant countries and promoting the establishment of matching international standards will be conducive to the formation of sustainable competitiveness. BCAA provides training and pilot services for the technology companies or teams which have these demands.
Global Technology Transfer: Though Bluetech technology's global collection and selection activities, BCAA has established cooperation with more than 100 professional partners in clean technology in more than 20 countries around the world. Based on the foundation of international cooperation, BCAA will promote global excellence in technologies while continuously introducing top technology startups into the Chinese market. Moreover, BCAA will guide China's advanced green technology into the global market, to support clean global development.
High-value Patent Cultivation Event
BCAA supports the organization of the "Intellectual Property Summit Forum" to accelerate the cultivation of high-value patents for clean technologies On April 24, 2019, the 19th World Intellectual Property Day, BCAA, as a co-organizer, held the "Enterprise Intellectual Property Innovation Development Summit Forum", which was hosted by New Century Inspection and Certification Co., Ltd. More than 200 people from various industries, intellectual propertyagencies, intellectual property management departments and other institutions participated in the forum. As a special guest, the Alliance Director Tonny Xie made a special report on the theme of "Cultivating High-Value Patents - Custom Focus for Intellectual Property Management in Technology Companies" and participated in the round table discussion.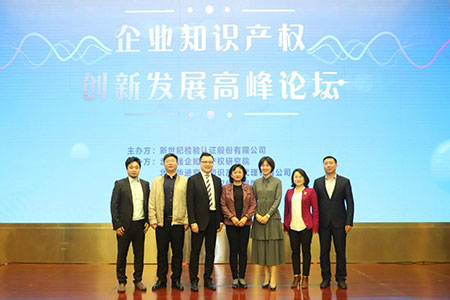 Bluetech Training Event: Promoting Patent Quality to Strengthen the Core Competence of Clean Technology Industries On June 13, 2019, the Bluetech Clean Air Alliance launched a training exchange event in Beijing on the subject of intellectual property in the field of clean technology to promote the high quality development of the clean technology industry. The event invited a number of senior experts in intellectual property and clean technology as lecturers and discussion guests, discussion guests. BCAA organized representatives of nearly 40 Technology companies, technology investment and incubators in the field of clean technology to participate in training and exchanges.